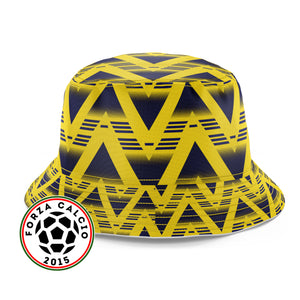 Arsenal Retro Bucket Hat
Regular price $23.00 Sale
Arsenal Retro Bucket Hat

DESIGN:
- 50% cotton, 50% Polyester (High quality)

SIZE CHART: (Cm)
- 60cm
- One Size fits all

CREATION:
- Creating by ForzaCalcio for KobeDesigns
- We dont sell low quality products, this is a high quality product.
- Based in Ireland
- Each hat is packaged and shipped via An Post Ireland or Deutsche Post/DHL

SHIPPING:
- Shipping information:
- Each hat will be carefully packaged within a Jiffy Bag and shipped within 3 working days of purchase.
- We also have Registered post available and recommend that you take this option upon checkout to track the delivery and to have a faster shipment, Live tracking is not included for basic shipping (IMPORTANT).
- Please be aware shipping times are estimates and there is no guarantee it will arrive within that time frame. 99% of the time it will but with Covid, customs and other variables there may be delays. Resgistered shipping will show you updated information on the items location.

EXTRA:
- Any questions please don't hesitate to ask, Thanks for looking.
- Follow us on Twitter @Forzacalcio and Instagram @Forzacalcio for special offers and discounts.