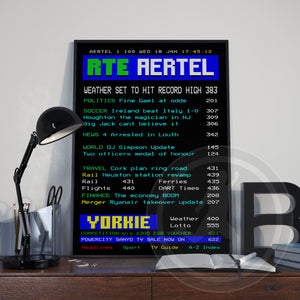 Aertel customised Irish retro TV poster
Regular price $34.00 Sale
Introducing our Customisable RTE Irish TV AERTEL Style Poster – a blend of vintage nostalgia and contemporary customization that brings a unique touch to your special occasions. Crafted on premium A3-sized 260gsm high-quality paper, this poster pays homage to the iconic AERTEL design, infused with a dash of individuality.

Immerse yourself in the classic AERTEL aesthetic – the distinctive blocky text, vivid colours, and captivating pixelated graphics that evoke the charm of a bygone era. Our poster captures the essence of nostalgia while allowing you to add a personal touch, making it a cherished gift for birthdays, Christmas, Father's Day, weddings, and more.

You can customize everything or for an extra small charge we can source the info for you. (Please contact us via DM for this)

Printed with meticulous attention to detail, using high-quality inks, each poster is a work of art. The vibrant colours and crisp lines draw you in, inviting you to explore the content much like flipping through a vintage TV information service.

The highlight of our Customisable AERTEL Style Poster is the opportunity for personalization. Celebrate special moments by adding names, dates, or messages that hold sentimental value. This fusion of retro aesthetics and modern customization results in a truly one-of-a-kind piece that resonates deeply.

We ship the poster unframed. This allows you to unleash your creativity, selecting a frame that perfectly matches your style and interior décor. Whether displayed in the living room, bedroom, or office, this poster adds a touch of uniqueness to any space and sparks conversations.

Each Customisable AERTEL Style Poster is meticulously printed to order, ensuring the highest quality standards are met. We take pride in delivering products that exceed expectations. We ship within 5 days of purchase, Once printed, your poster will be carefully rolled and shipped in a sturdy hardback tube and shipped directly to your home or office (Please check delivery times to your location)

Rediscover the joy of nostalgia and embrace contemporary customization with our Customisable AERTEL Style Poster. Whether it's a birthday, Christmas, Father's Day, or a wedding, this poster goes beyond being a gift – it's a heartfelt representation of thoughtfulness and creativity. Order now to add a dash of retro-modern charm to your celebrations.