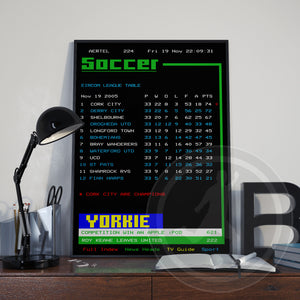 AERTEL Cork City Champions Poster
Regular price $22.00 Sale
AERTEL Cork City Champions Poster
Introducing the Cork City 2005 Champions Poster – a nostalgic nod to the classic Aertel style that captures the essence of a bygone era in football history. Crafted with meticulous attention to detail, this poster is a visual masterpiece that celebrates Cork City's memorable journey in the 2005 Eircom League of Ireland
Printed on A3-sized 260gsm high-quality paper, this poster exudes a vintage charm that transports you back to the golden age of football reporting. The textured paper lends an air of authenticity, creating a tactile experience that harks back to the days when printed media held a special place in the hearts of football enthusiasts.
The design of the poster is a meticulous recreation of the iconic Aertel style – a true testament to the passion and dedication of Cork City fans. The layout boasts a structured, grid-based format that displays the League table with utmost clarity. Bold, easy-to-read typography reminiscent of vintage teletext technology ensures that every piece of information is effortlessly accessible.
The color palette of the poster is a delightful blend of muted tones and rich hues, mirroring the limitations of technology from that era. The subtle pastel backgrounds and contrasting dark text evoke a sense of nostalgia, evoking memories of eagerly waiting for the latest updates to appear on the screen.
Please note that the frame is not included; it's shown for illustrative purposes only. The poster arrives ready to be displayed, allowing you to choose a frame that complements your personal style and enhances the overall aesthetic.
Whether you're a dedicated Cork City fan reliving the glory of 2005 or a connoisseur of vintage football memorabilia, the Cork City 2005 Champions Aertel Poster promises to be a cherished addition to your collection, encapsulating the spirit of a memorable era in football history.
- Printed on high quality 280gsm matte poster paper.
- Size: A3 (297mm x 420mm)
- Frame not included
Shipping information:
- Each print will be carefully packaged within a hard tube package and shipped within 5 working days of purchase.
- Any questions please dont hesitate to ask, Thanks for looking.